Groups
Discover husky sledding in NZ! Are you looking for new things to do with friends, family or other social groups? A group tour at Timberline Racing Huskies is something that everyone will enjoy!
Our kennels in the beautiful Central Plateau is one of a few special places where you can learn about husky sledding in NZ. If you simply adore animals, come and see us for a fun day out at the kennels.
Our tours are suitable for people of all ages and interests including church, retirement, photography, and team-building groups, workplaces, and families. We can also host your birthday too – and can put up decorations for an extra cost. Whether you're looking for new activities for your Probus group, a Christmas party for your team at work, or new things to do with friends that love dogs, Timberline Huskies would be happy to host you.
You'll take home new knowledge, stunning photos and plenty of memories to cherish.
Entertainment from a pack of running huskies
Your group will get to see a live demonstration of a running 8-dog team using a quad bike on the track. Watch the huskies in their element, working and running together with endless energy to navigate the 800m track. For health and safety reasons we can't offer sled rides—but through our live demonstration you'll see exactly why huskies are born to race!
Education on husky sledding in NZ
A group tour at Timberline Huskies will teach you all about the history and nature of the Siberian Husky breed. Find out more about husky sledding in NZ and what it takes to keep a healthy and happy pack. We'll reveal what makes a husky run, what makes them tick and what they need to be kept as a pet. See how the dogs are transported and what their day-to-day routine entails as we show you around our property in the countryside.
Connection with friendly dogs and pups
If you haven't cuddled a gorgeous husky before, now is your chance! There's plenty of evidence that spending time with animals can improve your wellbeing, and our soft and sociable huskies just love to interact with visitors. At the end of each tour, our pack of affectionate dogs is free to roam and mingle with guests. They're very well trained, they all love children and all interactions are both safe and supervised. Take your own selfies with the dogs or ask one of our team to do the honours. Our huskies are very photogenic and just love the attention –check out our gallery for all the proof!
Post-tour refreshments for all
After the tour, enjoy refreshments on the deck with your group and Timberline Huskies owners Steve and Taniya. Warm up with a hot drink and a bite to eat on a cold winter's day and take the opportunity to ask all the questions you like about our dogs, our experience and husky sledding in NZ.
Tour details
Numbers: We welcome groups of up to 50-60 people.
Duration: Husky tours take approximately two hours.
Price: For groups of 10+, please phone us for pricing. Individual prices can be found on our tours page.
To find out more about visiting Timberline Racing Huskies with your group, contact us here.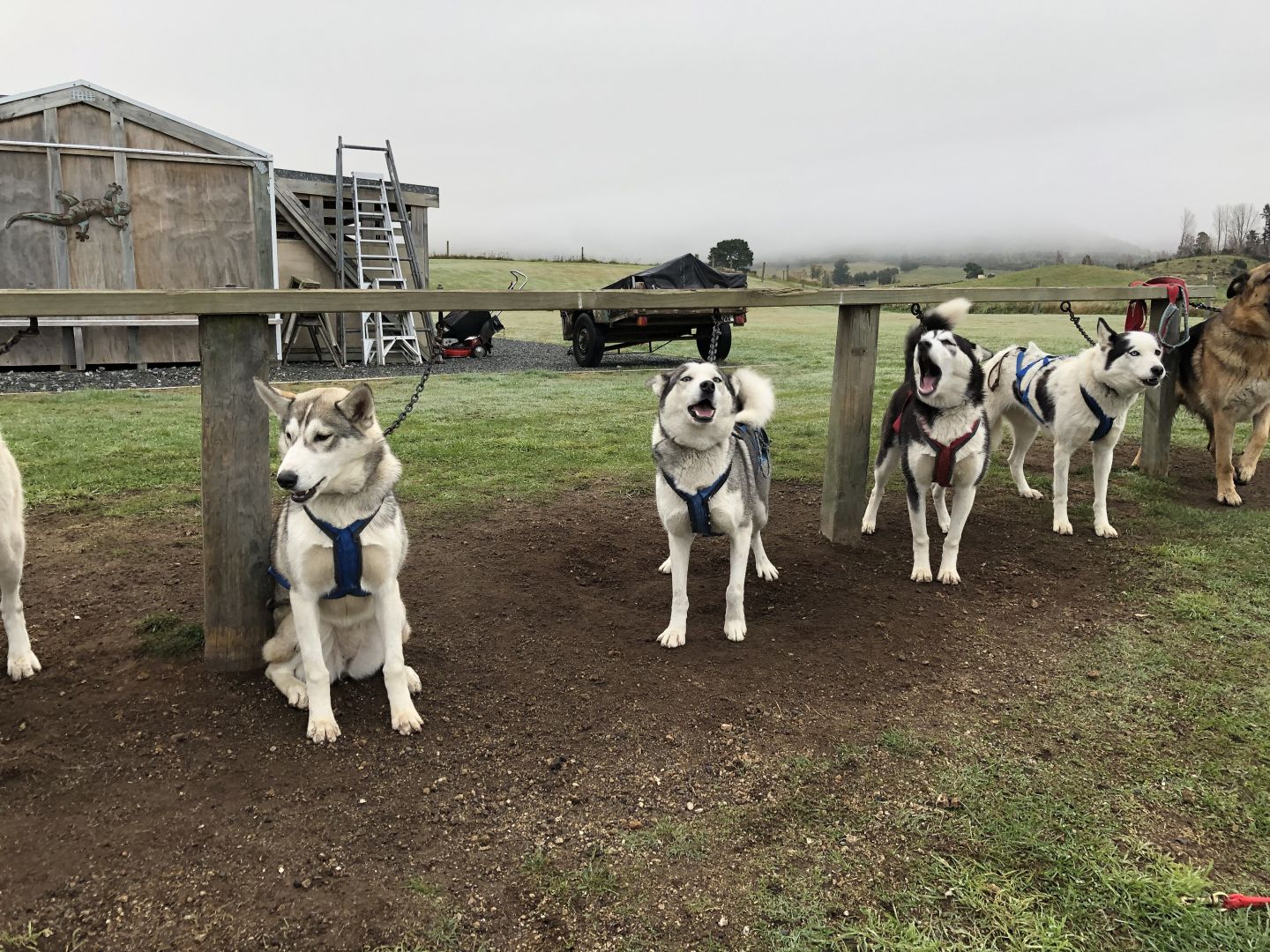 What our previous guests have said
Absolutely loved the experience - Steve you're a legend :)
Janelle Brooks and Family, Auckland, New Zealand
Unforgettable experience. Nothing like it ! Super friendly team, very informative and interesting. Will definitely be back !!
Hannah Pym, Wellington, NZ
Sled dogs in NZ ! What fun! Super to meet Steve, a fabulous fellow with fantastic canines.
Alexandra and David, Fairbanks, Alaska USA
READ MORE REVIEWS